Sales forecasting
and inventory optimization
Became a retail mastermind you always wanted to be.
Prepare your Black Friday inventory with these tips from Inventoro
By: Jul Domingo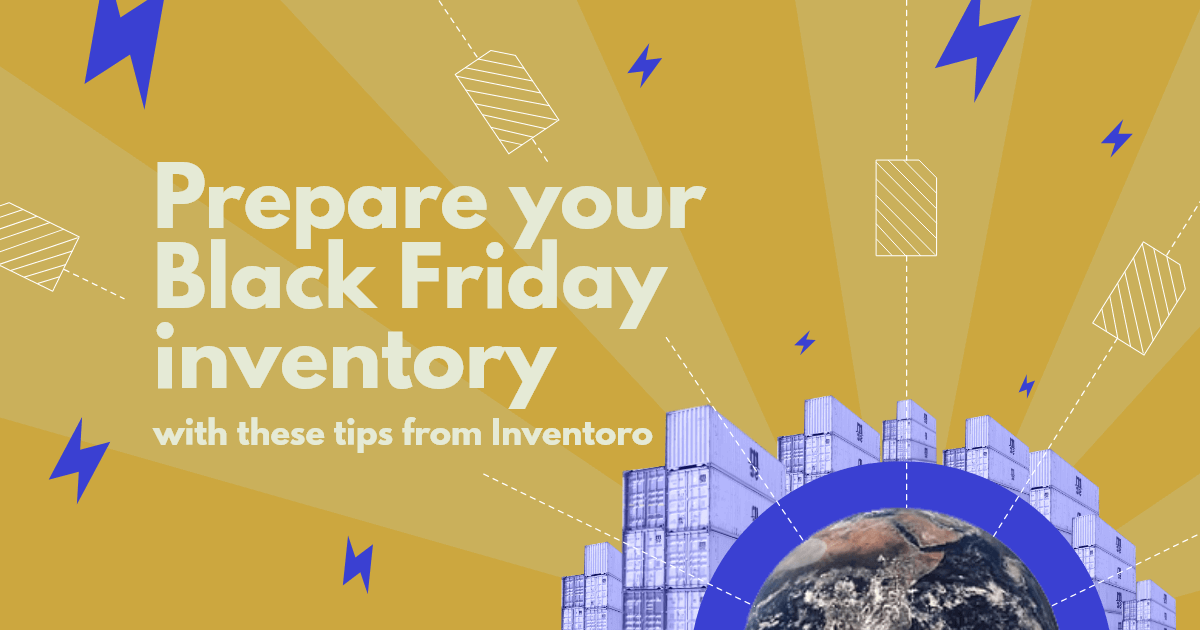 Black Friday is coming up.. have you got enough inventory to satisfy your customers' demands?
Managing a small business means you prepare carefully before the big day, from setting up your website or your store to ensuring you have enough staff. But your priority will always be inventory.
After all, it determines how much money you're going to make (or sadly, lose) on the biggest shopping day of the year.
So, how can you make this Black Friday and Cyber Monday sale season a roaring success? Read on for a basic guide and some tips to get you through this busy season.
How to stock up enough for Black Friday and Cyber Monday
57% of shoppers plan to start shopping before Thanksgiving. This means consumers plan to spend earlier on Black Friday and Cyber Monday, so getting a jump on planning is essential. Here's a 3-step guide to ensure you have enough inventory to sell the items you want.
Step 1: Review your inventory performance reports and prepare your marketing strategy
Preparing your Black Friday inventory should always start with research. Businesses experience a phenomenal rise in sales during BFCM sales, but keeping up with the demand can be an issue.
"One way to reduce inventory risk is by having an inventory management plan in place before these days. Keep in mind that inventory management is an ongoing process – not just related to these two days," Remote Job CEO Max Benz explains.
Use your historical inventory as a reference for the upcoming Black Friday and Cyber Monday sales. This will give you the opportunity to adjust current stock items based on customer demands. Remember to identify brands and products that performed well over the past year, not just during BFCM.
The goal is to identify your top-performing products and weed out underperformers. If you are producing special edition items for the holidays, account for those items as well.
A second important tip would be to study your product roster, not just what you have on hand. Do this by dividing your inventory into categories so you can see their performance through and through.
Once you have information on your inventory performance, you can tie your forecasts to your marketing strategy. Think of it this way: Marketing and inventory go together. Without promoting your products, you might not entice enough customers to purchase your stocks. On the other hand, amplifying your marketing strategy without having enough stocks to back it up can lead to disappointed Black Friday customers.
"Preparing for Black Friday and Cyber Monday starts months in advance, with targeted marketing campaigns. Once the word is out, so to speak, we just ensure that our systems are fully operational to handle the extra volume we expect to have."

– James Green, Owner, Build A Head
Here's how we do it at Inventoro:
Maximizing sales by buying minimum begins with understanding your winners and losers. By knowing which items belong to which categories, Inventoro calculates maximum order levels and inventory levels. This way, you won't have to worry about overstocking after the BFCM sale period is over.
Just imagine, in a single click, you can see which products are
Winners: Your money maker. Don't need to discount them because your shoppers love them. Chances are, if you strategically place them in your brick-and-mortar shop or website during the BFCM sale, your visitors will likely buy them at full price.
Chasers: These are promising products that are gaining momentum amongst your audience. You can ramp up their popularity by putting them on minimal discount during the holiday sales period.
Losers: Products you want to eliminate. Instead of letting them occupy space in your warehouse or shelves, you can put these products on flash sales (Black Friday customers will love 'em) or give them away as freebies along with your chasers or winners.
Really, the decision is up to you. You can sort the list in many ways–from most profitable, to most sold, to highest sales volume or even most frequently sold. Our app allows clients to set up business strategies in the Strategy section.
Watch this clip to understand the role inventory plays in your BFCM marketing and advertising plan:
We're not here to replace your valuable expertise — you know your business better than anyone, but Inventoro makes the process easier so you can focus on running your business better. By segmenting your portfolio according to revenue share, sales frequency, and profitability, you can plan your marketing strategy accordingly.
Strengthen your marketing campaign
for Black Friday with Inventoro
Step 2: Analyze and forecast sales performance
Another great baseline to get your inventory right for your Black Friday and Cyber Monday is your previous sales. Examine your sales patterns to see which products have been doing well. You'll also discover promising products that have sales potential based on trends this way.
But for sales forecasting, you need more than your historical sales data. You have to keep other variables in mind, such as:
Seasonal demands
Trends
Marketing initiatives
Global or regional changes
Current industry conditions
Moreover, if you have multiple revenue streams, such as an e-commerce site or multiple brick-and-mortar locations, you may want to explore these in detail for better sales projections.
When it comes to busy seasonal events like Black Friday and Cyber Monday, you need to forecast inventory levels as accurately as possible. Founder Elliot Davidson of Parcel Master, an eCommerce fulfilment company, emphasizes this well, "This isn't a decision you want to guess and, as such, you should take an analytical approach."
Getting this wrong would result either in having too little inventory to take advantage of potential sales, or worse, ordering too much stock that would then have to be sat on, tying up a lot of cash.
"Forecasting tools can help make your life easier by doing the heavy lifting: looking at historical sales data month over month and year over year, as well as taking into account current growth rates. All of this will then let you know a stock burn rate, essentially letting you know the date when the stock is expected to run out."

– Elliot Davidson Founder of Parcel Master
How Inventoro can help:
Looking into existing sales data helps create an informed decision and Inventoro can help you in this department.
Instead of pulling out your records and assessing different variables on your own, our system will do it for you on a day-to-day basis. So when something big comes around, like BFCM, you're ready to go. Over time, Inventory can attain near-perfect accuracy as we go through the motion day-to-day figuring out the best forecasting method for each product.
The number of models we have is over a hundred, each representing a different way of forecasting. Since each product in your inventory requires a different approach, we let the system figure out what works best.
Step 3: Make sure your orders (and suppliers) are ready.
The final step in ensuring you have enough stocks for Black Friday and Cyber Monday is making sure your suppliers are up to the task. You already have a pretty good idea how much inventory you need based on your sales data, inventory performance, and market research.
During this step, align your inventory with your forecasted demand. The good thing about running an SME is that it's easier for everyone to collaborate. People in charge of marketing and inventory planning should work side-by-side at this point.
More importantly, you need to keep an open dialogue with suppliers about your needs as early as possible.
However, it doesn't address the fact that manually tracking purchases is expensive, slow, and inefficient. Processing purchase orders requires too much fuss since there is no single purchase method. You need to create a purchase order, summing up all the items relevant to a specific supplier — and do this more times than necessary. For every supplier, for every purchased schedule, and for every channel.
These are just the tip of the iceberg. There are possibly many additional steps involved in a manual process depending on your company. But if you don't do it right in time for Black Friday sales, it could become an expensive mistake. If you have a good idea of the demand you need, you should get your replenishment timing right.
Ship too soon, and you're holding too much stock you don't need, leading to warehouse issues.
Don't restock on time, and watch your sales drop.
With a tool that takes into account seasonality and past sales, you can make a more informed decision about how much inventory to keep. So you minimize the risk of tying up cash in inventory, not selling it, and then having to discount it to recoup the money.
"Like forecasting, knowing how much stock to hold can be hard, so factor in lead times with how many weeks' stock you want to have on hand at one time."

– Elliot Davidson Founder of Parcel Master
What Inventoro can do for you:
Getting the purchasing order ready is a tedious task for any SMB owner — but it's one of the most critical responsibilities. Inventoro automates this process to save entrepreneurs time and energy while also increasing its accuracy.
Instead of manually inputting data, you can sleep well at night knowing that the system is doing it for you. We have developed a way to match your sales forecast with your current inventory, while factoring variables such as promotional activity.
Using Inventoro is not only going to increase your income, it will also save you time — since we take care of everything from forecasting down to preparing your purchase order. All you need to do is take a look at the suggested purchase orders and approve them. You can take it one notch higher by connecting Inventoro to a process automation system, which creates orders for your suppliers.
This can free you up to 20 hours of administration. You can use this time to tweak your website or get your shop ready in time for BFCM madness.
Additional tips to prevent stockouts during BFCM
Have a contingency plan
Black Friday/Cyber Monday sales can be difficult for SMB owners to predict accurately. But a lucrative marketing campaign can easily result in an inventory problem, especially if you run out of your most popular product. Having a back-up strategy won't hurt. Here are some of your options:
Don't rely on a single supplier. Look for other companies you can partner with and build a relationship with them.
Rent a new warehouse for the holiday season. Marc Bromhall of Surf Gear Lab shares, "We've leased 2 new warehouses for 3 months."
Proactively take action
COVID-19 has undoubtedly cost supply chain issues (think: the cargo ship crisis in California), which impacts 2021 Black Friday sales. Businesses had to get nifty to avoid it.
"We have increased our PO's throughout the year in anticipation of being overstocked for Q4, and we're comfortable knowing we might have more weeks of stock than we normally would have to go into next year," INTO THE AM & iHeartRaves CEO Brian Lim shares. Moreover, to compensate for the longer shipping time, they began holiday sales earlier in November.
Don't forget that Black Friday is just the beginning
Okay, we're not going to argue that Black Friday is the biggest shopping day of the season. It is, generally speaking, but several more follow all the way into next year—so you need to be prepared. Make sure you account for them when looking at your inventory before you boost your marketing and sales efforts.
Enjoy an Inventoro free trial ahead of the busy shopping season.
Sales forecasting
and inventory optimization
Became a retail mastermind you always wanted to be.