Sales forecasting
and inventory optimization
Became a retail mastermind you always wanted to be.
Holiday shopping season: How SMBs should handle their inventory, marketing, and sales
By: Jul Domingo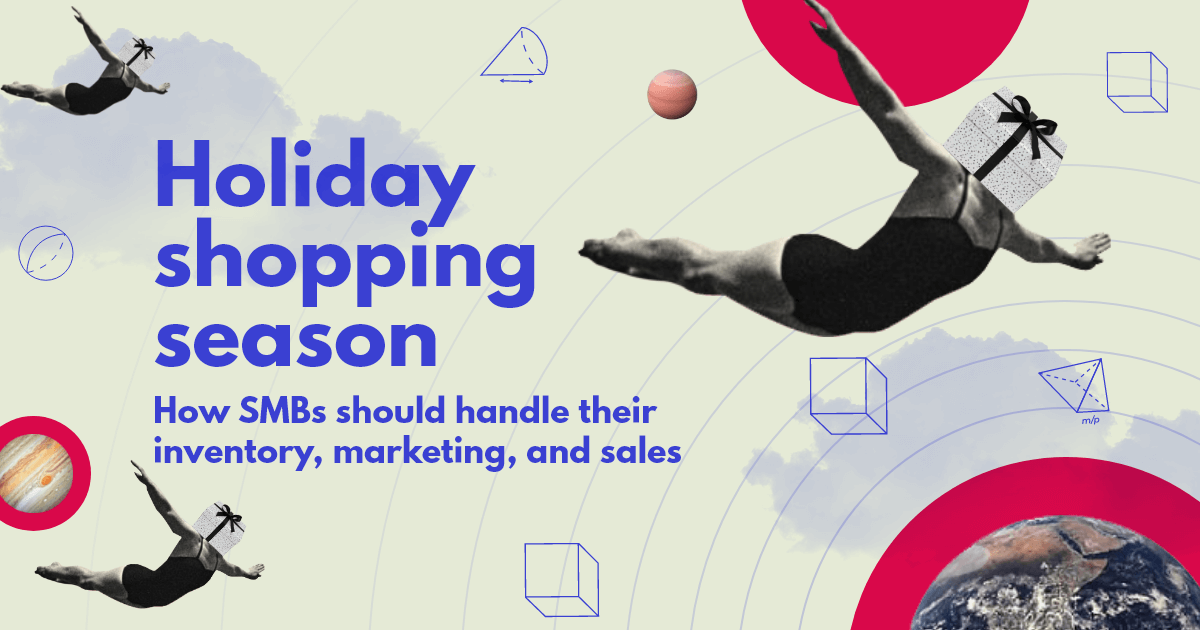 Due to the rise in Covid-19 cases in 2020, businesses with brick-and-mortar stores opt for online selling channels to sell their holiday inventory and connect with shoppers who purchase gifts on the Internet.
Online shoppers represent 27% of the population around the world in 2023, providing SMB owners with a wider range of revenue streams, especially since more stores have reopened this year.
Unfortunately, the world events continue to plague entrepreneurs with new challenges, especially during the coming busy sales season. For example, 82% of retailers are somewhat or very concerned about holiday inventory shortages.
It's also common for business owners to struggle with the handling the rest of the holiday season after a hectic Black Friday sale. In its aftermath, you're left with more things to do such as replenishing your stocks and planning and executing new promotions.
We created a guide filled with practical tips and proven steps to help you achieve a successful holiday season that will exceed your BFCM performance.
What are the common retail problems during holidays and how to prevent them?
After a busy sales season, many businesses struggle to maintain their momentum. The holiday season is a prime example of this. During this period, you'll have inventory problems, sales and distribution issues, and marketing challenges.
"While a lot of prep goes into preparing for big sales days like Black Friday and Cyber Monday, an equal amount of prep should go into the days after."

– Jean Gregoire CEO of the world's first love note messenger, Love Box
It's always better to avoid problematic situations than to deal with them. So this holiday season, addressing pitfalls in advance can improve your business agility. Anticipating and preventing problems will help you ward off possible financial losses. Take a look at this comprehensive list, where we explore each possible issue and provide a solution.
Holiday inventory problems
Unexpected backorders
This year, about 40% of U.S. retailers were 'very concerned' about stockouts and holiday inventory problems because of global chain disruptions. If the situation extends to your suppliers, you may face backorders, which can be unfavorable for your customers due to extended delivery times. When holiday shoppers don't receive the best shopping experience, they simply switch to competitors.
Use effective warehouse and inventory management systems to track the movement of holiday inventory in real-time. Also work on improving the process for fulfilling backorders and communicate your reordering plans with suppliers, and discouraging order placement for out-of-stock items. Update the stock quantity in your online sales channels.
Post-holiday product return
E-commerce businesses face a higher rate of sales return during the holiday season. Unlike in physical stores, holiday shoppers won't see, test, and experience your product in person if they order online.
This can spell future trouble, since 80% of customers plan to return the holiday gifts they bought online due to the following reasons: the item was not what was described, it took too long to arrive, the item didn't fit, and some people tend to order multiple items for comparison.
It's not 100% possible to reduce product returns, but you can minimize them. Augment your inventory preparations for Christmas and the rest of the busy holiday shopping season with honest product advertising.
According to Maria Vasserman, Marketing Specialist at ecommerce platform and marketing automation company, Maropost, "Care must be taken with product descriptions and high quality images so that customers have as much information as possible about their purchase options."
Another way to mitigate the problem is to deliver a 100% transparent shipping process. Here's an example from Thread informing their client about a shipment delay: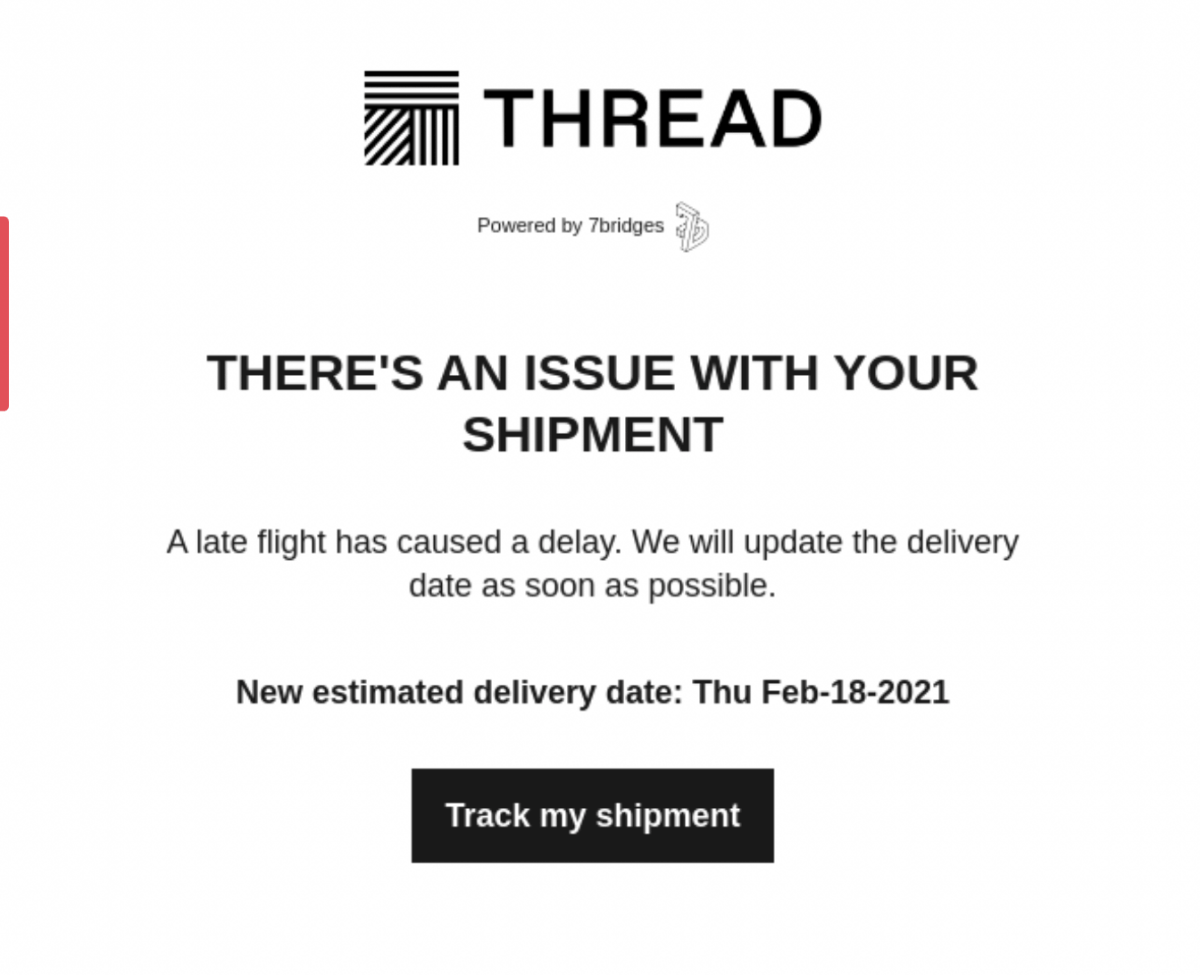 Source: Really Good Emails
It would also help if you "explicitly communicate your returns policy on the checkout page and also in the order confirmation email," according to Surf Gear Lab's CEO Marc Bromhall. Here's a brief, but clear, excerpt of their return policy which you can find on their checkout page before you click "Continue to shipping".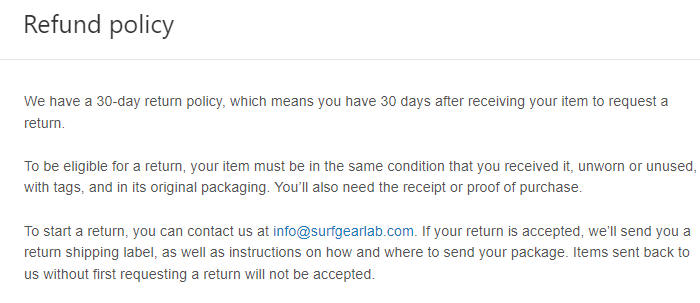 Source: Surf Gear Lab
Sales bottleneck
Encountering sales bottlenecks can make holiday inventory a challenge, both online and offline. Often, these problems arise as a result of an influx of customers, disorganized stock, or poor staffing. Here are some examples:
Holiday traffic surges that cause website crashes
Time and effort goes into packaging, shipping, and delivering products.
Store overcrowding that lead to overwhelmed employees and difficult customers
"When it comes to inventory, I make sure that there are enough supplies on hand and that my employees are adequately prepared for the event's days."

– Martin Seeley Chief Executive Officer at MattressNextDay
Implement a good inventory control system, including the proper display and storage. Don't understaff during a big holiday and avoid hiring untrained and inexperienced employees. If you need to upgrade your hosting and security for your online business, run a load test first test first to verify. Then if needed, optimize the website and the applications for smartphones and other devices.
According to Erin LaCkore of LaCkore Couture, "This offers them the flexibility to shop from any device without any hassle and boosts the number of sales." She believes that user experience determines business performance, and contributes significantly to the final purchasing decisions of the customers.
Inventory stockout
Inventory stockouts are a common holiday inventory problem. It is the most common of all due to inaccurate or lack of demand forecasts. Stockout situations are unfavorable because they lead to lost sales and customer dissatisfaction.
According to NRF, 19% of annual sales account for the holiday sales alone—namely Christmas, Boxing day, and New Year sales. Unfortunately, holiday inventory stockouts can make this difficult.
In any sales campaign, adequate on-hand inventory is necessary. Your inventory preparation for Christmas and the remaining holidays shouldn't only begin before the holiday season, but it should begin sooner rather than later. Make smart decisions with an accurate demand forecast and replenishment plan.
"Lack of stock visibility ultimately has a detrimental impact on business sales, profits and growth – without knowing what you have in stock, products aren't replenished in a timely fashion resulting in empty shelves"

– James Khoury, an online retailer and CEO of Zendbox, an intelligent eCommerce fulfilment solution
This holiday season, don't let inventory stockouts slow you down.
Let Inventoro help.
Sales and distribution challenges
Sales order backlogs
Sales order backlogs typically occur during the peak holiday season when orders are taken but not completed. The increase in demand still uses the same amount of labor and resources.
Hire extra seasonal workers to avoid wearing your employees out. Seasonal employment alleviates the increased workload without compromising the quality of performance. You can also invest in automation software that monitors Sales Order KPIs.
Holiday retail theft
Along with an increase in foot traffic in your brick-and-mortar shops this Christmas, Boxing Day, and New Year, you face a greater risk of shoplifting. Besides product theft, you should also watch out for cash robbery, fraud cash, and counterfeit cards. For online retailers, a growing number of visitors and transactions during the busy season comes with security concerns.
Install security mirrors and cameras in your brick-and-mortar store. It's also helpful to monitor the stock quantity of theft-prone holiday inventory. For extra website security, Vasserman recommends investing in cybersecurity protection before the holiday season and dedicating resources and time to ensure it is working properly to prevent loss of revenue and customer data.
Overpromising and underdelivering
Companies tend to focus too much on superior customer service, which causes problems. For instance, when you overpromise and fail to deliver discounts because many customers unexpectedly claim them. Another example is when there's a same-day delivery promotion but the items end up arriving three days later.
State a disclaimer in your discounts and promos. It's also helpful to reevaluate your past promises and tweak them into something more reasonable. Whenever possible, do the opposite: underpromise and overdeliver. You can order deliver their orders earlier than expected or surprise your customers with complementary products like Blume in the following example: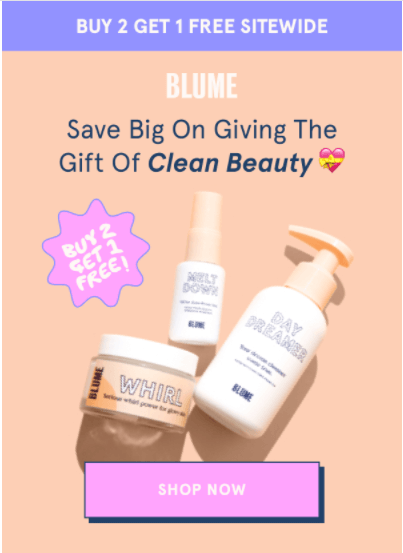 Source: Milled
Poor customer service
Christmas, Boxing Day, and New Year sales are three of the most awaited shopping days every year. According to NRF, 70% of consumers say that they expect to find the best deals during this season. In this holiday shopping rush, employees may lack focus on customer experience. It's difficult to maintain the same high-quality service and enthusiasm for all buyers because of countless inquiries.
For repetitive customer inquiries, create FAQs and place it the list on your website to save time. Consider outsourcing your customer support needs to a freelancer or agency if the workload is large during this period. It's common practice, with 70% of entrepreneurs using outsourcing as a cost-cutting tool while 40% of them rely upon it to increase flexibility.
Holiday marketing pitfalls
Not optimizing digital strategy
It's not enough that you promote your Christmas and New Year sales campaign on different social media channels. It definitely helps to get things moving since 72% of visitors arriving at a product-detail page from a social media platform end up buying the products. Digital marketing strategies also help ensure people achieve something when they're on your website, and you could use them to get the word out on to your physical store (if you're holding
Create a targeted landing page for each of your holiday sales campaigns to help buyers easily access different vouchers, sales bundles, and discounted products available. Marketing Consultant Rohan Kadam shares his secrets to client's website landing pages, reducing cart abandonment rates from 7% to 3%:
Using exit pop-ups with the help of the "Hello Bar"
Using a countdown clock on the landing page. This technique caused an 11% increase in conversions. The example below shows how fashion brand Christopher and Banks strategically positioned it at the top of the landing page.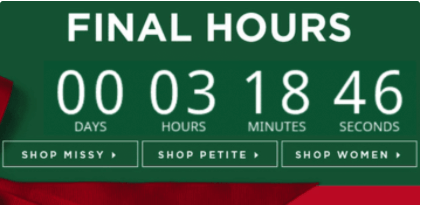 Running ad campaigns oversoon
Spending on paid advertisements requires knowledge and expertise. Unless you capture your prospects' attention first with the right timing, you might be wasting budget on ads if they fall on deaf ears.
Plan your campaigns early but launch them when the time is right. Planning usually takes 3 to 6 months. For the holiday campaign launch, observe the buying trends of your target customers.
Do they start holiday shopping at the end of October or right after Thanksgiving? Depending on your location and industry, the answer can differ, so you must base your decision on real information. Kadam also advises the effectiveness of running dynamic remarketing ads. This has resulted in up to a 23% increase in conversions for brands he worked for in the past.
"Running dynamic remarketing ads has been most effective for me because firstly, setting them up is very easy on the Google Ads platform," he explains. "Secondly, through dynamic remarketing ads, I could target my audience (shopping cart abandoners) with highly personalized messages."
Overdoing holiday promotions
Spamming your customers with nonsense content is a red flag. Sure you want your customers to know you're dropping prices and offering freebies and vouchers. But bombarding them with emails could send your promotional efforts straight to the trash folder.
Learn the science of email marketing. You want to excite your customers and not annoy them with your announcements. Allow reasonable intervals, personalize content, and build relationships—you'll never go wrong with these three. The Moment, a marketplace for photographers, only sends out an average of 7 emails a month, and this is a perfect and subtle example that captures their holiday offers: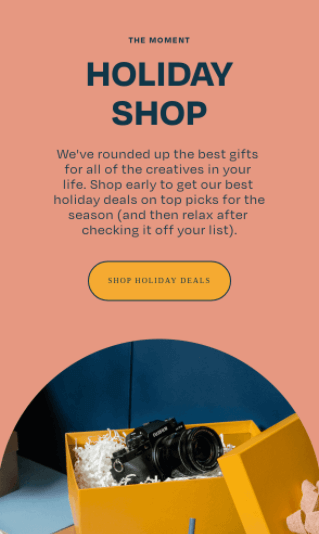 Source: Really Good Emails
Overlooking the competition
Most companies are so busy with holiday marketing and inventory preparation for Christmas that they tend to forget to observe the bigger picture. Holidays are the most competitive season of the year. Don't miss the opportunity to take advantage of their weaknesses and stay ahead of the competition.
Gather insights from competitive analysis first before you plan your overall holiday strategies. When you know your competitive advantage, it's easier to form strategies that will yield more sales. For instance, if your competitors deliver within three days, but your target customers prefer same-day delivery, consider which options won't compromise your workflow but can still help you deliver the goods faster to your customers.
With the potential holiday challenges out of the way, let's turn our attention to some steps you can take to succeed. Here are some holiday business tips and how-to's for your holiday sales this Christmas, Boxing Day, and New Year 2023.
How to prepare your shop for Christmas, Boxing Day, and New Year 2023
Whether it's an e-commerce or physical shop, planning and preparing will help you make the most of this peak season. Here are some quick step-by-step guides from holiday inventory management to marketing.
Holiday inventory preparation
To avoid the Christmas inventory problems examples above, follow these steps:
Forecast demand. Forecasts allow you to stock up the right inventory level without overstocking or running out of stock. Rely on your holiday sales history and use a modern inventory forecasting solution to improve accuracy.
Update inventory balances. Updating stock balances on your website or inventory system lets you track the remaining quantity. Also, it's easier for your audit team to check if all holiday inventory movement is accounted for. Check the stock quantity in all your sales channels and match it with the number of inventory on hand.
Communicate with suppliers. Check availability of stocks, especially the high-selling items. Create a strong product portfolio using inventory management techniques like ABC analysis. After highlighting the products that need frequent reorders, you can alert your suppliers about follow-up purchases.
Review the ordering process. Have a walkthrough of the entire ordering process to detect possible problems. Review and test everything especially if you have several distribution channels like Amazon and Shopify.
Schedule purchase orders. Place your orders early by referring to your inventory and lead time. If you want to avoid holiday inventory problems, don't rely on last-minute purchase orders. Using your inventory forecast, place your orders weeks or months ahead depending on your products' shelf life.
Optimize displays and storage. By doing so, you prevent bottlenecks and improve efficiency. You will save time and space in your warehouse, which will lead to a smoother holiday sales operation, and smart merchandising in your store can boost profits by 50%.
Conduct real-time observation. Observe the actual flow of holiday inventory to anticipate any changes in demand. Once you see products that are selling out, you can reorder right away without running out of stock. Employ inventory management software with real-time sales analytics for easier replenishment.
Perform a post-holiday sales audit. Audit reports assess the company's holiday sales performance. They also ensure the accuracy of inventory balances for financial reporting. Conduct a physical count of stocks after the last day of holiday sales and compare it with your system balances.
Holiday marketing strategies and sales promo planning
Improve your holiday marketing strategies this Christmas, New Year, and Boxing Day Sales 2021. Take note of the following:
Set the start and cutoff date. Create a market and demand analysis to help you with this decision. Analyze when your target customers start shopping for holiday gifts and use that to plan your sales duration.
Determine goals and set a budget. Set specific and attainable goals while considering your budget. For example, your goal is to sell at least $250 worth of products for every $10 you spend on ads.
Prepare your ecommerce site. In addition to running a walkthrough test, you also need to level up your visuals and content. Spark excitement and interest in your regular customers and new prospects, and create eye-catchy and engaging photos or videos for your holiday campaign.
Tweak your brick-and-mortar promotions. Weekly themed promotions will help spice up your traditional Christmas displays. For instance, the first week of December will be for dads, the next week for moms, and so on.
Explore multi-channel and omnichannel marketing. Various platforms can help increase brand visibility and awareness. Use different social media, websites, shopping engines, and marketplaces relevant to your target customers.
Consider bundle sales and referral discounts. Discounts and promotions are part of holiday sales. But this time, encourage more quality leads and sales higher sales volume by bundling complementary products together at a discounted price.
Bring value to your customers. Prioritize positive customer experience over sales and quality over price, and ask for their feedback and address them accordingly. Train your employees about proper customer service and offer real-time support.
Be consistent with your message. Being consistent in your brand identity and values will set you apart in the long run is one of the most important holiday business tips to follow. For online campaigns, you can use brand templates to set the mood for your design elements. Communicate positive messages to strengthen customer relationships.
Extra tips to scale your holiday sales
Before you go, here are more ways to ensure the profitability of your holiday campaigns:
Anticipate the post-holiday sales slump. The decline in sales is normal after the holiday season. Use this time to evaluate the current performance and plan for the next period. Don't let the momentum subside by keeping up with your marketing. You can create email campaigns for customers who didn't proceed with their checkouts during the holiday sales. Stay in touch with them by offering time-limited discounts and freebies.
"It gives us the time to analyze the data of what consumers bought during the promotion in terms of design and what methods were most effective. It also gives us some time to recharge, take things slowly and organize inventory of any out of stock or low stock designs."

– Mike Nemeroff, CEO & Co-Founder of Rush Order Tees
Create an annual holiday calendar. You can do this one while in a post-holiday slump. Since the new business year is starting, it's time to lay down the company's 2022 goals. Gather and list down ideas for all holiday activities next year. Based on previous sales performance, plan how you can improve your future campaigns.
Provide contingency plans. Have a Plan B. List down and outline all possible scenarios that are threatening the success of your plans and objectives. Be sure to also note these two factors as well:

Expedited shipping. Prepare cargo contacts and details should the circumstances require you to pay for expedited services, and rely on online quoting tools to access up-to-date freight shipping rates from various carriers.
Labor shortage solutions. Contact backup seasonal employees ahead of time, so you won't have to hire unqualified people just to fill a job.

Use automation and technology. The role of technology is to rescue us from juggling multiple managerial and operational tasks. When you use Inventoro, you'll save time and resources while increasing your sales this lucrative season by getting your holiday inventory right. Here are some ways we can help:

Accurate inventory forecasting
Optimized stock replenishment
Automated purchase orders
Getting rid of non-moving inventory
Tracking real-time inventory movement
Get your shop ready for Christmas, Boxing Day, and New Year starting with your holiday inventory
Your plans and strategies play a significant role in leveling up your holiday performance this year. But at the end of the day, your products are the holy grail of it all. For top-notch holiday inventory preparation, sign up for a free trial of Inventoro and check out our blog for more helpful holiday sales advice.
Sales forecasting
and inventory optimization
Became a retail mastermind you always wanted to be.