Sales forecasting
and inventory optimization
Became a retail mastermind you always wanted to be.
Get Control of Your Shopify Inventory with Reliable Demand Planning
Demand forecasting is much bigger than inventory management. While informed demand planning helps you reduce inventory size, it can also ensure that your popular items don't sell out.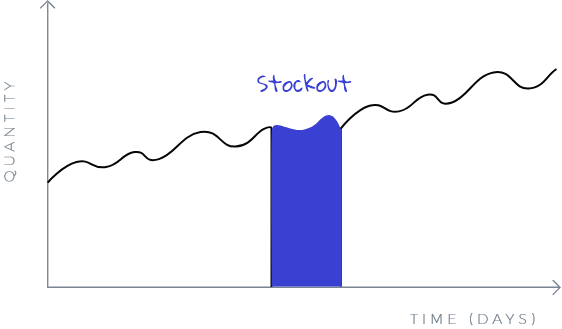 You will be prepared to meet future demands on Shopify and better manage your cash flow. When the slow-moving stock does not tie up your money, you are more aware of when to buy more stock and plan other yearly budgets better.
The following are some expert-backed tips for sales forecasting for Shopify and boosting your sales:
Know your audience
Using demand forecasting in combination with product research methods, you can run targeted campaigns to drive more conversion. To increase customer awareness, you need to take a market segmentation approach and learn what your target group needs.
This model will help your spot emerging markets, identify high-performing products, and which time of the year a particular type of product sells well. Alongside these, you can turn your focus to marketing, advertising, promotional, and discounting activities to achieve customer satisfaction in your ecommerce inventory management.
Anticipate future sales
Sales forecasting and inventory optimization
Became a retail mastermind you always wanted to be.
Evaluate the product demand before expanding your product line and see if the cost risks are worth your effort. Use social media trends, keyword research, geographic validation, and other factors in your demand planning model to creatively test out the market.
For instance, if you have two new, yet-to-be-released products, you can create individual pages for each and list them "out of stock" to see which one garners more "back-in-stock" notifications. Measure how many people place orders if you pre-sell them. This step is a crucial part of inventory management when you need the perfect balance between products to sell and those available currently.
Embrace personalization
Rather than being bombarded with cheap dedicated servers with random options, customers prefer receiving tailored recommendations. Although personalization can increase sales by 10% or more and fetch you 5-8 times ROI on your costs, not many companies are using it to its full extent.
You can do this by creating a 360-persona of your buyers and using personalization as an effective marketing tactic. Analyze their online behaviors, preferences, cart abandonments, and purchase histories. Send relevant product suggestions to their mailboxes with the email marketing approach.
Integrate tools with your Shopify store
You can have a Facebook page for your company and integrate it with Shopify. Or, use social media platforms like Instagram to boost your eCommerce efforts.
With strategic use of hashtags and content marketing on various channels, you can increase your followers and bring them to your store. Choose an app for inventory management on Shopify and integrate POS tracking.
Live chat is another tool that can help you target the website browsers on certain product pages. You can engage with prospects and clarify customers' queries while they are on the page. This interaction can help them get motivated to purchase what they were thinking of buying.
Balance risksDemand planning is a vast arena that includes identifying, balancing, and overcoming the market risks for growing your business. It gives you knowledgeable insights on competitors, seasonal impacts, and slow-starting new products. Combine sales forecasting with your Shopify inventory management to target large concentrations of customers and increase revenue.
Sales forecasting
and inventory optimization
Became a retail mastermind you always wanted to be.