Sales forecasting
and inventory optimization
Became a retail mastermind you always wanted to be.
Shopify inventory management and where to start
When you mention inventory management, most people imagine a pencil, paper, and hours spent in a storage room, counting away. However, modern businesses all around the world tend to utilize advanced solutions throughout the process. From barcode scanners to management software to aerial photography to measure the volume. That being said, physically counting the product one-by-one should be done periodically.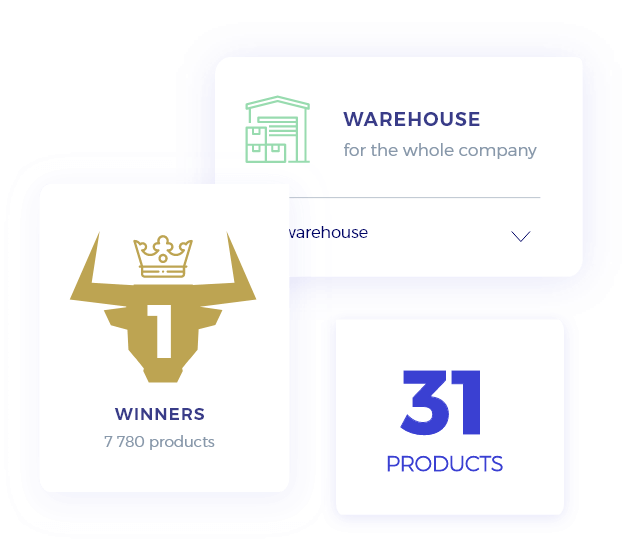 After all, inventory is your gold (sometimes literally). It does hold a lot of cash, and IT is what brings you profit. To manage the inventory well means to have products available when they are needed. And it also means that you will not have all of your hard-earned money stored away in a cold dark room. That's why you need to pay attention to your inventory every day. Luckily for all of us, there are tools to do that that integrate quite easily with your Shopify Inventory management
Why is inventory management necessary for your Shopify store?
Other than the obvious, when appropriately done, inventory management gives you insight into many fields. It can give you a basis to make decisions that can help you grow your business from the side project to the entrepreneurial superstar.
It can give you insight into:
Customer behaviors and preferences
Financial performance and overall profitability
Business opportunities and new product ideas
Consumer interests and buying trends
Not to mention all the satisfied customers who will not have to wait for their orders.
How to manage inventory on Shopify
Sales forecasting and inventory optimization
Became a retail mastermind you always wanted to be.
Your Shopify store in itself offers you quite a lot of data. That is excellent input for all the analytical people who love to spend their time crunching numbers. However, no one expects every single one of the store owners to be a data analyst. That's why you can integrate 3rd party apps that will help you make sense out of it. Simply, quickly and precisely.
A dedicated app for managing your Shopify inventory should be able to:
Track your inventory. One of the main values of an inventory management app is tracking the inventory. The app should be able to track all of your sales, returns, orders, and suppliers.
One-click integration. The app itself should be simple enough to use, so you don't have to hire an additional expert just to utilize it. That goes double for integrating the app into your Shopify store. All it should take is a few clicks and let the app solve everything else.
Include POS integration. Generally, all of your sales channels should be integrated into one app. If you have multiple POS and warehouses, all of them should be tracked in one app. That is a no brainer. However, some app providers tend to charge extra for that.
I have my inventory management app. What's next?
After you choose the app to manage the inventory for you, you should take a look at making the most out of your newly acquired powers. After all, why should you make your decisions about inventory management based on guesswork? That's why the very next step should be an app that helps you sort through your inventory and sales data and helps you forecast and plan.
The best way to determine which app is the best for you and compare their pricing is to try it out. Most of the useful apps offer free trials, and there should always be comprehensive pricing with no hidden and additional fees. For example, Inventoro offers unlimited SKUs, users, and warehouses for a a really low price.
Best Affiliate marketing Method
Why sales forecasting goes hand in hand with inventory management?
If you are serious about making informed decisions about your Shopify store, you should take a sort of a holistic approach. The two primary goals should be inventory management, as mentioned above, and sales forecasting. Simply put – based on your store data, a proper forecasting tool will tell you which items bring you the most profit and which items you should get rid of. It will also give you insight into your future sales and help you plan better from the cash flow perspective and plan out orders to your suppliers.
Sales forecasting
and inventory optimization
Became a retail mastermind you always wanted to be.